handcrafted
& built to last


Sofa size: 95.3″L x 41.3″W x 33.9″H
Convertible bed size: Queen
Length of sofa cushion (sitting cushion): 25.5"
Height of sofa up to armchair: 23.5"
Sleeper size: 80"L x 60"W
Packing size: 81.1″ x 42.9″ x 30.3″
Weight: 220lbs
Weight with packaging: 282.9lbs
Power: 92.5″L x 1 power outlet and x 2pcs USB outlet on both sides of the sofa
construction
Wood and metal frames
Sinuous springs and pocket coil mattress technology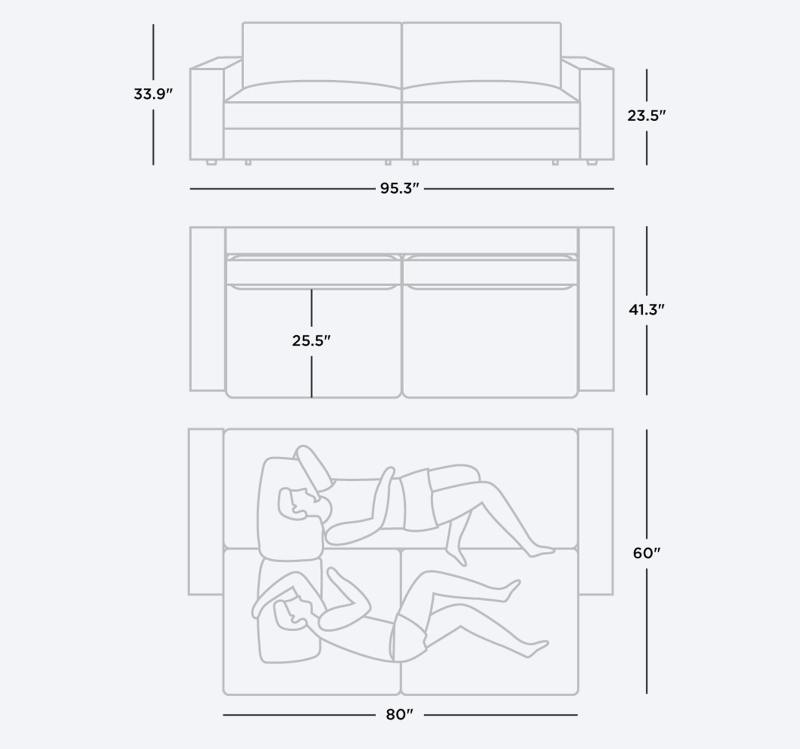 construction
Frame is solid hardwood + P2 Ply, Self stitching
woven  93% Polyester, 5% Cotton, 2% Nylon
Coddle fabrics are inherently stain resistant and allows easy removal for most stains.
general care
We recommend vacuuming on low suction to prevent dust and dirt buildup.
To minimize fading, avoid direct sunlight.
Pilling can occasionally occur as a result of normal daily wear. Easily remove them with a battery-operated pilling tool.
Only apply water-based soil-resist fabric protector treatments. Do not use harsh chemicals or abrasive cleaners, as they can be quite damaging.
An annual professional cleaning will keep your furniture looking its best.
For more information, please refer to our extensive care in our support section
1-year limited manufacturer's warranty
We offer a 1-year limited manufacturer's warranty on all Coddle products. For the warranty to be valid, you must be able to provide the email address used to place the order and the original purchase confirmation email containing the order number. The warranty is only valid on Coddle products purchased directly from Coddle or an authorized retailer. The warranty is voided if the product has been resold or re-gifted by the original purchasers. Our warranty covers all defective or damaged parts and manufacturing not related to customer-caused damage or modifications.
returns
You may return any of your products within the first 30 days after your receipt of that particular product, subject to the process described below for each product.Returns are not guaranteed.For more information, please refer to our full warranty and returns in our support section
Once we receive and confirm your order, Coddle products typically take 1-2 days to ship. After shipping, they will be in transit between 7-10 business days. A delivery agent will call you between 24 hours before delivery to provide a window.
The delivery window is typically 4 hours. The delivery team will call around 30 minutes before delivery.
We use a 3rd party delivery service and our customer service team coordinates with them to provide you with as accurate information as possible.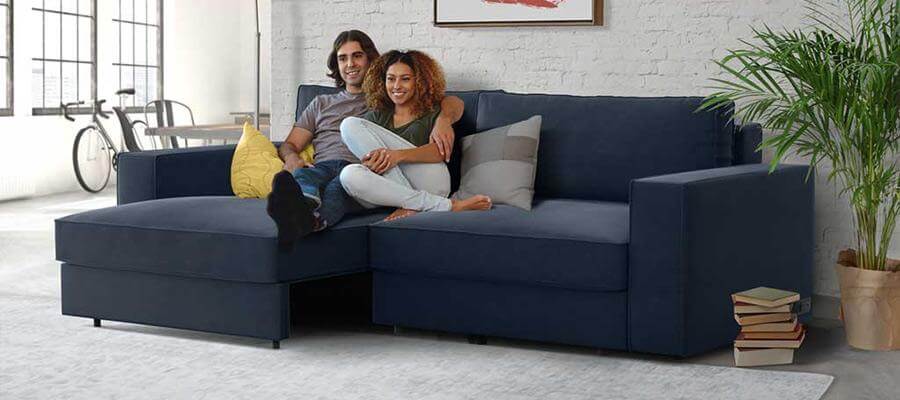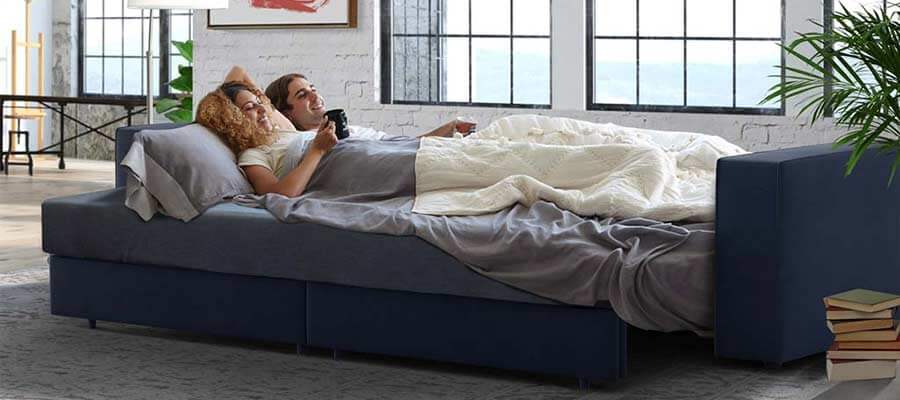 switchability
It's a Sleeper. Not a Fitness Test! You won't break a sweat converting Switch – it takes the lightest touch to transform from sofa to snooze worthy sleeper. It's Queen-sized, so there's plenty of room for two.
the queen sleeper sofa that's 24-hour beautiful
The compromise is over: you can now have a beautiful room and beautiful sleep. The uptime luxury Queen-sized sleeper sofa. Comfortably contemporary design and meticulous hand-crafted build quality for maximum snoozeability.